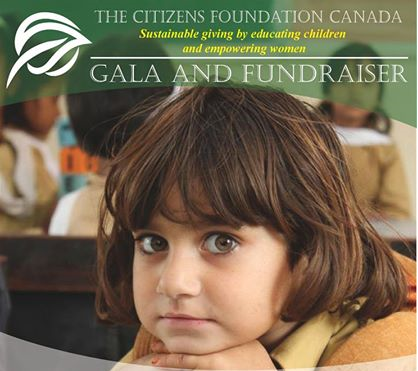 The Citizens Foundation (TCF), Canada held its 9th Annual Gala and Fundraiser on 13th April, 2014 at the Apollo Convention Center in Mississauga.
This was TCF Canada's biggest event ever. Almost 1,000 guests and 36 corporate sponsors participated in the sold out event to share in TCF's vision of educating under privileged children in Pakistan.
The highlight of the evening was a moving address by the Keynote Speaker Marc Kielburger, co-founder and CEO of "Free the Children". Marc started his address with the story of Iqbal Masih of Pakistan who was a key influence for Marc and his brother Craig in starting their movement. Free the Children is an example of how such movements can make a difference in the lives of people in developing countries. Marc commended TCF on its progress in the field of education in Pakistan and urged the audience for continued and generous support of this important cause.
TCF Canada's President, Aziz Rakla enumerated the key achievements including the meeting of the 1,000 school milestone and spoke about the future goals of the organization. He thanked all TCF supporters and volunteers and made an impassioned plea for even greater efforts for TCF vision to be fulfilled. TCF Director Nilofer Saeed, who travelled from Pakistan for the event, highlighted TCF's vision beyond 1,000 schools. She indicated that TCF is planning to convert 50,000 schools, which are run by small and big entrepreneurs, to the TCF model by providing a complete manual on how to run a school including teachers training. She also shared TCF's experience in building schools in the most troubled tribal areas. She ended her speech with a video, "From Her Hamlet to Harvard"; a message of a TCF female graduate, Anum Fatima, of her journey to Harvard.
The honored guests and participants included the Consul General of Pakistan and Turkey, Senators, Members of Parliament, leading businessman and entrepreneurs. In addition to the delicious appetizers and food, the guests were treated during the evening to enthralling performances by Meher Pavri (Soprano) and two virtuosos Anwar Khurshid and Paul Des Laurier, who came together for a fascinating musical meeting between the Pakistani classical and western blues music. A silent auction was held for three economy class airfare tickets to Pakistan courtesy of Turkish Airlines. The guests thoroughly enjoyed the evening and were seen mixing and mingling late into the night.
The evening, above anything else, highlighted the plight of under privileged children in developing countries, especially in Pakistan, who are in need of support and encouragement in order to reach their true potential and become responsible members of their community. All speakers made fervent calls for support of this noble cause so that children born poor are not deprived of their basic right to be educated. They also pointed out that despite the efforts of voluntary organizations such as TCF, the need to educate such children was growing and urged upon the diaspora for greater contributions and support.
TCF believes that access to basic education is the right of each individual and not a privilege. "It's raison d'être is driven by a twin mission: To educate girls and boys (regardless of their religion or ethnicity) who would otherwise 'slip between the cracks' in Pakistan's class-based and fragmented education system, and, EMPOWER power women across Pakistan (by offering them safe employment opportunities) so that they can effect change in their communities."
TCF runs the largest network of schooling system in Pakistan and takes pride in being Pakistan's largest privately funded charity in the education sector assisting over 145,000 youth residing in the country's most impoverished communities, attain quality education in its 1,000 secular schools. It also boasts of a 50:50 male to female student ratio and an all-female faculty of 6,700 teachers and principals! TCF has been recognized by esteemed organizations worldwide, such as the Clinton Global Initiative, WISE Qatar, SKOLL Foundation, for setting the standards in reforming the education sector in Pakistan and is the closest proxy to what the government could be doing had proper systems been in place for a literate Pakistan!
TCF was also recently showcased by the world renowned filmmaker Sharmeen Obaid Chinoy. Her documentary was also played at the Gala and encapsulated the TCF mission and strategy to address this self-inflicted disaster that Pakistan is facing in the current times.
Not just content with providing educations to under privileged children, TCF has introduced revolutionary initiatives such as teaching the female parents and grandparents of children basic reading and math skills during a three-month special course. This initiative has enhanced self-confidence in women who attend the course and made them more supportive of their children's education. Another initiative is the Mentorship program aimed at children studying at TCF schools. The mentors are volunteers who come from all walks of life – established professionals from corporate sectors, accountants, doctors, engineers, lawyers, teachers, etc. A group of 5 to 7 students is assigned to a pair of mentors for seven Saturdays. During this period the mentors provide information on various career choices available to students after completion of school studies and how to prepare themselves to succeed in the career of their choice.
TCF schools are located from Karachi to Khyber in over hundred cities, towns, and villages. TCF is constantly striving to increase its reach and to bring in more and more education-deprived locations within its network. Each location is carefully chosen with an extensive assessment of demographics, income level, existing schools in the area and availability of teachers.
The Canadian chapter of TCF is an all-volunteer organization, recognized by the Government of Canada as a charity (Registered Charity Number: 844142273RR0001). All donations to TCF Canada are eligible for Canadian tax credit. Both TCF Pakistan an Canada are independently audited by KPMG LLP, and statements for the past five years are available on the respective websites www.tcfcanada.org and www.tcf.org.pk
The evening was a monumental success yielding significant contributions from the guests. TCF would like to thank all its supporters, sponsors and volunteers for truly making the event a memorable one.
A Special Thanks to Our Gala Sponsors
The Citizen Foundation Canada would like to thank the following sponsors for their ongoing support of the 2014 Toronto Annual Gala: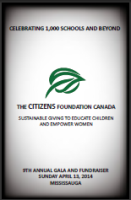 Celebrating 1000 Schools and Beyond
Sustainable Giving to Educate Children and Empower Women
9th Annual Gala and Fundraiser
Gala Committee Members
Abdurrehman Muhammadi- Chairman
Abdullah Zafar- Social media
Saad Khan- Logistic coordinator
Salal Khan – Marketing
Abdul Karim Hashmani- Media
Noor Akber Zeb- Communication
Talha Sajun- Graphic designer